Chad Vader: Day Shift Manager is an American comedy series created by Blame Society Films' Aaron Yonda and Matt Sloan. The series was first produced for Channel101 but the series was cancelled after two episodes. The series gained its second wind after the duo uploaded their episodes on YouTube and the videos hit the streaming service's front page. The show won the George Lucas Selects Award during the 2007 Official Star Wars Fan Film Awards.[1]
Chad Vader (the character) is the less famous brother of Darth Vader and the day-shift manager at Empire Market. Chad Vader is portrayed by Aaron Yonda and voiced by Matt Sloan.
Plot
Origin
As a child, he was in a biking accident, in which he fell into a volcano. His older brother sent him a life-support suit.
Season 1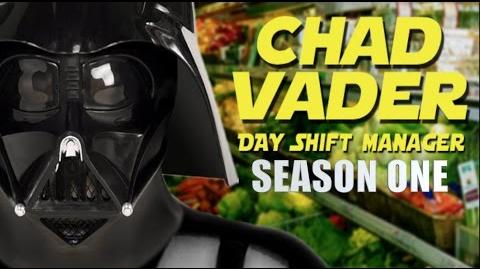 Chad Vader goes on a date, gets into fights with his nemesis, and gets demoted to night shift manager. As night shift manager, Chad is exposed to the underbelly of the population who only come out at night. Chad quits and is visited by a ghost of a man named Ben who convinces him to find another job. He fails at all other jobs that he attempts, so he goes back to working for Empire Market.
Season 2
Empire Market is forced into a hostile takeover by Red Leader Foods. Randy, due to a laser checkout system failure, is demoted from general manager. Chad is given a new apprentice, who he seems to prefer to his previous. Jeremy, the previous apprentice, gets Chad in trouble with the new manager, who gets Chad's girlfriend deported. Randy gets obsessed with Baby Cookie. The Marshmallow Bandito, who hates Chad, is hired and Jeremy is sent to training camp, then promoted to general manager. Chad and Jeremy duel, Weird Jimmy is killed. The general manager position is given to the person who does the best job at it, after each person does it for a day.
Season 3
Chad invents a huge security camera which is similar to a Mini-Death Star. He used the security camera named "Surveillance Assailant" to find the first manager-for-a-day which was Marshmallow Bandito. He later used it in an assassination attempt on the same person. Chad keeps training Jeremy although it's harder with the ghost of Weird Jimmy still around. Chad's old nemesis Clint Shermer returns to the store as the new manager-for-a-day. He wears a Chad-o-meter to make sure Chad won't attack him again.
Season 4
"In the star-studded 4th Season of Chad Vader, Chad must rise to the various challenges of being General Manager of Empire Market – his dream job! Season 4 sees the return of Chad's self-exiled apprentice Jeremy Wickstrom (Paul Guse), and the amazing return from the dead of Weird Jimmy (Craig Johnson). Chad tries to balance his new relationship with Michelle (Sarah Rogers) with the stresses of his job, and power quickly goes to his head. He alienates his friends, butts heads with a former co-worker who returns from the past to cause trouble (Brian Krause – Charmed, Mad Men), forges an alliance with former enemy Maggie (Karen Moeller) and takes out his frustration on clueless stockboy Andy (rising country music star, Andy Gibson), and calls in members of the 501st Legion to help him keep things under control in the store. Will Chad get it together and be a good manager, or will he give into the temptation of his "Dark Soul Half"?"[2]
Episodes in season four were released on Hulu a week prior to its YouTube release.
Cast and characters
| Character Name | Talent |
| --- | --- |
| Chad Vader | Aaron Yonda / Matt Sloan |
| Jeremy Wickstrom | Paul Guse |
| Clint Shermer | Matt Sloan |
| Randy Morgan | Brad Knight |
| Weird Jimmy | Craig Johnson |
| Margaret McCall | Karen Moeller |
| Lloyd | Rob Matsushita |
| Clarissa | Christina LaVicka |
| Libby | Kate Sprecher |
| Sean Banditson | Sean Moore |
| Damien Nightshayde | Ian Zander |
| Baby Cookie | Matt Sloan |
| Champion J. Pepper | Matt Sloan |
| Ben | Mike McCafferty |
| Hal Thompson | Aaron Yonda |
| Tony Edwards | Asa Derks |
| Tammy | Kealynn Kees |
| Lionel | William Bolz |
| Star Wars Nerd | Steve Agee |
| Robby Johnson | Wolfgang Stein |
| Jonny | Craig Johnson |
| Brain Krause | Brain Krause |
| Andy Gibson | Andy Gibson |
| Brandon | Justin Sprecher |
Production
During the filming of season one, production cost for each episode was around $500 to $1000 with much of the hours covered by volunteers. By the time the finale for season one was released, the sales of DVDs and T-shirts brought in enough revenue to cover the budget of Chad Vader and their website but was not enough to cover labor costs for the cast members. Fortunately, Blame Society Films was one of few content creators that joined YouTube's revenue sharing program at the time of its creation. YouTube agreed to compensate according to their views as long as the videos were exclusive to their platform for a certain period of time.[3]
Season four was partially funded via a KickStarter.[4]
Conception
The early stages of Chad Vader were first conceived by Madison stand up comedian Tim Harmston (who was living in Chicago at the time in the early 2000s). He was inspired when shopping at a "chilly" Ukrainian grocery store; he felt as though Darth Vader worked there. Tim Harmston had worked with Aaron and Matt in their films.
When Matt and Aaron began pitching ideas for the show, they decided not to feature Darth Vader, who would likely kill his employees, but rather his brother Chad Vader, the less menacing of the Vaders.[5]
Filming
The show was filmed at Willy Street Co-op in Madison, Wisconsin. John Urban was the assistant director and lighting designer. Tona Williams of Bigbite Productions was the director of photography.[6]
The costume Chad Vader used was the Supreme Edition Darth Vader Costume ($600 value).
Translation
The show was translated into Spanish, Chinese, French, Portuguese, Hebrew, and Lingua Franca Nova reaching both domestic and international audiences.
Release
Broadcast
Chad Vader: Day Shift Manager aired on Channel101 for the first two episodes before it was cancelled. Upon finding a pirated copy on YouTube, Blame Society Films opened a YouTube account and uploaded their show. Chad Vader became an instant internet sensation hitting the YouTube front page for several weeks. On October 12, 2006, a part of the fourth episode was aired nationally on Good Morning America, reaching mainstream audiences.
Besides YouTube, much of the earlier episodes aired on MySpace. Chad Vader had its own channel on the streaming giant Hulu.com and the episodes could be downloaded onto their devices through Blip.tv.[7] On June 24, 2010, Babelgum announced that it acquired the Chad Vader back catalogue and Aaron and Matt would create new Chad Vader episodes to be aired regularly on Babelgum's Comedy channel. Its first episode with the service was "Chad Vader's Death Star Mistake."[8][9][10]
DVDs
Season 1
The season one DVD contains all eight episodes and 60 minutes of special features. The disc also includes outtakes, audio commentary by the directors Matt Sloan and Aaron Yonda (for all episodes), a feature called "Chad : Fully Operational" documentary (highlighting the behind-the-scenes interviews with cast and crew, "…And Mayor Dave as Himself" featurette, "A Conversation with Hal" featurette, "The Co-writers" featurette, "Chad's First Vlog" short, two Chad holiday greetings, five update videos (created to inform the public in between episodes and highlighting internet viewer comments), "Chad Does Rifftrax" short with Mike Nelson and Kevin Murphy from MST3K (in addition to the directors' commentary and bonus shorts), and a radio interview of Aaron Yonda with a preview of the Morning Radio Mysteries show.
Attendees of Wis-Kino spring Kabaret kick-off were able to purchase the DVD before the season finale airing.
Season 1.5
Released in the Fall of 2008, the Season 1.5 DVD featured a Chad Vader spin-off called the "Chad Vader Training Videos" and other bonuses.
There are a total of six episodes in the "Training Video" series. It is a series in which "Chad tries to use his own homemade videos to teach Empire Market employees how to deal with spies, shoplifters, proper workplace attire, cleanup and more!" Each episode has a commentary counterpart, explained by Chad himself. Similarly, the DVD includes a "mockumentary" style video called "The Empire Market Training Video Fiasco," which examines "the unfortunate repercussions of Chad's training videos for Empire Market employees and customers." Other videos in the DVD include "The Blame Society All-Star Tribute to Chad" in which characters created by the Blame Society Films acknowledge Chad Vader in some respect, viral videos such as the Chocolate Rain music video and "Chad meets Obama Girl," an interview by Buns and Chou Chou on the Rabbit Bites Show, "Santa Claus gives Chad for XMas, a video featuring Chad at YouTube Live, and the Blame Society updates used to inform the public of their new upcoming projects.
Season 2
The season two DVD includes not only all of the episodes but also audio commentary tracks on each episode (some of which Chad Vader does as well), deleted scenes, outtakes, interview, and Blame Society update videos.[11]
The DVD also includes two Blame Society Productions films The Life and Death of a Pumpkin and A Wicked Deception as well as numerous viral videos featuring Chad Vader such as "Chad After Dentist," "Chad Vader and the Security Guard," "Chad Vader Goes Turkey Bowling," "Chad Vader is Your Father," "Chad Vader's Miserable Labor Day," and "Chad Vader Goes to Community College."
Season 3
The season three DVD includes all ten episodes, commentaries by Aaron, Matt, and Chad Vader, the outtakes, and many bonus Chad Vader videos including "75 Costumes at Dragon Con," "Chad Vader Vs. Felicia Day," "Chad Vader at Comic-Con," and "Chad Vader Meets George Lucas."
Season 4
The season four DVD includes approximately 140 minutes of the episodes, and additional 75 minutes of bonus content, and commentary by Aaron, Matt, and Chad Vader. The bonus material consists of 13 Chad Vader shorts not part of the cannon series, the behind-the-scenes, and outtakes.
Response
After being cancelled on Channel 101 after two episodes, Chad Vader entered the YouTube space and became a viral sensation, hitting the front page for several weeks. The show was nominated in the inaugural YouTube awards for "Best Series" and ranked third place.[12]
Even after its initial response, Chad Vader remained relevant much throughout the decade. Grand Rapids, Michigan based rock radio station WGRD-FM featured Chad Vader on its website tying it to the release of Star Wars Episode VII: The Force Awakens. [13] Likewise, Huck Magazine introduced Chad Vader in its Channel101 feature, explaining how while Chad Vader was cancelled on Channel 101 after two episodes, the show became a wild success. [14]
Chad Vader was also featured on a Wired blog, in which the author complements Matt on his impression of James Earl Jones.[15]
Other appearances
He also appeared on a special video of YouTube Live, which invited famous YouTube celebrities of that time in 2008.
Chad Vader has made several appearances on Aaron Yonda's gaming channel Game Society. The videos featured Chad Vader's commentary of Star Wars video game gameplay. In many of these Star Wars themed video games, Matt Sloan (the voice of Chad Vader) voiced for Darth Vader.
See also
References
External links
Community content is available under
CC-BY-SA
unless otherwise noted.