Blame Society Films also known as Blame Society Productions is an American production company owned by Aaron Yonda and Matt Sloan. The production company is based out of Madison, Wisconsin, and is best known for their award winning comedy web series Chad Vader: Day Shift Manager. Blame Society Films uploads comedy programs and shorts every week on their YouTube channel Blame Society Films.
Blame Society Films has produced comedy films for Google, NBC's Community, BBC America, Trident, Jarritos, and International Trucking.[1][2][3]
History
In 1993, Aaron Yonda with his friend Benson Gardner co-founded Blame Society Productions. They produced together a public access television show called The Splu Urtaf Show, while attending the University of Wisconsin - Eau Claire. After graduation, Aaron moved to Madison, Wisconsin where he met Matt Sloan (who joined the company in 2001) at an improv comedy group called ComedySportz. The company produced many shorts, many of which have been screened at Channel 101 including but not limited to McCourt's in Session, Fun Rangers, and Chad Vader: Day Shift Manager.
In 2002, Aaron and Matt helped established Wis-Kino, a Madison chapter for the Kino movement, an organization which encourages production of low budget films with small operations. Aaron and Matt pursued their interest in filmmaking, creating many short films throughout the early decade. Matt Sloan's To My Love was screened internationally, reaching Canadian and Brazilian audiences. One of Aaron's most notable film was The Life and Death of a Pumpkin, which was awarded "Best Short Film" and "Best Concept" at the Chicago Horror Film Festival. The short horror film was also screened abroad, entering in The Super Shorts Film Festival in London, and the Clair-Obscur Film Festival in Basel, Switzerland. Other films to note are Death is My Co-Pilot, which received a Kodak Opportunity Award film stock grant and Down Home Cookin'/Uncle Jimmy's %@!#%& Farm (2005), which was awarded "Funniest of the Fest" at Hi Mom! Film Fest in Carrboro, NC.[4] Aaron's pumpkin-themed short has been shown in classrooms across the United States as educational material and a sample for aspiring film students.
In 2010, Aaron piloted a comedy show called Beer and Board Games. Faithful to its title, Aaron and his co-host Matt invite guest comedians and play various board games while drinking craft beers. After a few Kickstarters, the hosts were confident enough to continue the show.[5] The hosts have welcomed to the show many local stand-up and improv comedians although some have traveled internationally to appear on the show such was the case with comedians Jon Hozier-Byrne and David Reilly from Ireland.[6] Celebrities across different industries have also appeared on the show including members of Los Angeles-based rock band Fishbone, author John Green, YouTuber Hank Green, and music creator Kevin Macleod.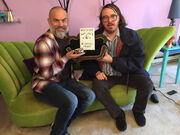 In 2011, Matt and his friend Craig Johnson launched a "movie watching" comedy show called Welcome to the Basement.
Blame Society Films has a second channel on YouTube called blamesociety2, which focused on outtakes and spin-offs. In 2010, Blame Society Films launched Hal Thompson's spin-off series eHal with Hal Thompson and in 2011, they launched Baby Cookie's spin-off series Baby Cookie's Got Answers. Blame Society Films' second channel is no longer active. All content including Hal Thompson's spin-offs now air on Blame Society Films' main channel.
Blame Society Films currently (as of April 2018) releases a new episode of Beer and Board Games every Thursday and a new episode of Welcome to the Basement every Friday on their YouTube channel. Beer and Board Games airs live every two weeks on Saturday evenings. Occasionally, there are special releases of Hot Seat with Hal Thompson or a special Hal Thompson live stream (as part of the eHal with Hal Thompson series).
See also
References
External links
Community content is available under
CC-BY-SA
unless otherwise noted.